The Kirlian Frequency Blows Away Expectations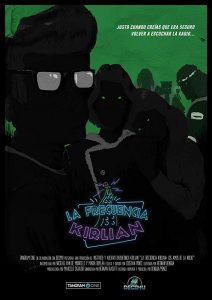 (Notice: this show was originally an Argentinian web series and thus the pictures contain writing in another language.) 
The Kirlian Frequency is two things above all else: a shameless rip-off of Welcome to Night Vale and a brilliant example of how stylish artwork and voice work can lead to a show that's very cheap but is so visually engaging it doesn't matter.
And, since I happen to like Night Vale, and I like seeing its style presented in a more visual medium, I'm on board. Each episode isn't long, but it has such an understanding of good short storytelling and pacing and leverages it expertly. Now, The Kirlian Frequency is in the horror genre, but the stories aren't so much scary as they are creepy or unnerving. So much work is being done here, though, on every level, that it's engaging even if it's not going to make you jump or shiver.
But, let's talk about the main thing with this show, and the first thing you'll likely notice: the animation. I said already that they overcome limitations, but I didn't clarify just how much they achieve here. The drawings are crude. The animation is not and does not attempt to be fluid. Some characters don't even talk—being represented by subtitles—and I'm pretty sure that's because they couldn't get another voice actor. But it doesn't matter. This is some of the most impressive minimalistic visual storytelling I have seen in years.
In episode one, a gunshot missing and shattering a window is represented by simple shapes—but the communication shines. This show demands you pay attention and not dare look away: a split second can get across entire concepts.
There's no reason—if you like horror—to skip this one. It's excellent. Who cares if it's a copycat of something else popular? Even if this is just a stepping stone for the creators to do new and amazing things, I don't care. They've proven themselves to me.
The Kirlian Frequency is about a town with monsters and other supernatural things, but the truly strange thing about it is how good it is.
Possibly Related Posts:
Comments