Over The Garden Wall: Classic Child Fantasy
Over The Garden Wall Wears Influences
If the people initially responsible for Over the Garden Wall weren't heavily inspired by Alice in Wonderland, then I'd be shocked. Much like Coraline, this is a story that follows such a similar world and structure to it that I can't help but see the parallels. The simple traveling to a magical world, the seemingly random structure to how the main characters interact with small surreal stories, and the off-ness of dialogue are all stylistically similar.
The one difference from Alice, though, is that this story has an explicit dark edge to it. The finale episode spins in my head as I type this. The whole of the finale is just so moody and poignant that I can overcome the part of the show that most people are going to be annoyed about once you watch it.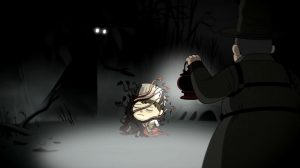 Over The Garden Wall Has A Semi-Amazing Ending
I won't spoil the ending, but you'll know what I mean—and I want to assure you that you should still watch it with that warning.
Because it's just got such weird and fascinating energy to it.
I've seen a lot of cartoons in my life, but never have I had dialogue flow like this. Modern cartoons often have a manic or witty style to how characters talk, with high emotion or fast thought, but this is slow and poetic and ruminating. Characters act incredibly childish sometimes, but also show remarkable intelligence and intuitive thinking, sometimes rather subtly.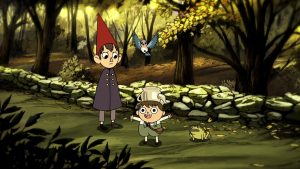 Over The Garden Wall Has Distinct Fun Characters
And then there's the art style. I can't place what's inspiring it, exactly, but a ton of shots use beautiful, sweeping, detailed backgrounds, like paintings, with the simply drawn—expressive, though—animated characters moving on top of it. Shots linger on these tableaus, and the episodes can have an almost calming feeling, like daydreaming.
The focus on music only adds to this. Odd, sometimes off-rhyme songs spring up that sound like new nonsense lullabies. I can't help but think of "Steamboat Willie" of all things, as the characters bounce around and sing simple songs with charming lyrics.
Over the Garden Wall is a cartoon unlike anything I've seen from Cartoon Network. A relaxing, thoughtful piece of fantasy that's both child-friendly, and deeply surreal in a way that's sure to entertain adults. Flowing like a movie, this mini-series I'd recommend watching in one or two sittings, with a fire roaring, and blankets to keep out the cold. It's a dreamscape of a story that's nostalgic for something that never existed and a darn entertaining one at that.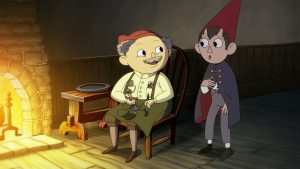 Possibly Related Posts:
Comments