Friday Fiction: The House That Is The Wrong Size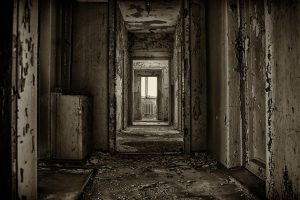 *An old red radio begins playing the recording. The Fictionmonger's voice emanates from it.*
Tuning in…
"LADIES AND GENTLEMEN, may I have your attention, please?! You've been patient! You've been diligent! You've been loyal! Now, for demonstrating such tremendous qualities, such incredible attributes, such unbelievable resolve, you shall be rewarded! Friends, bloggers, Earthlings, lend me your ears! The time has come, yet again, for you to get your proper dose of excitement, adventure, and intrigue! People of the Net, without further delay, I present to you this week's FRRRRRRRRRRIDAAAAAAAAAAAAAAAYYYYYYYYYYY FICTIOOOOOOOOOOOOOOOOOOOOOOONNNNNNNNNNNNNNNN!
"Sam…
"…Sam, play it.
"Sam? Hey, where are you? We need to rehearse for the next episode. Brandon Scott sent us this…
"Sam, seriously, where did you go? We have to get this going, the readers are going to want to read this…
"Did someone hear somethingggggggggggg….
"Stranggggggggeeeeee…
*Discordant muffled screaming cuts off the broadcast.*
Possibly Related Posts:
Comments