Classic Cartoon Review: The Powerpuff Girls
Why Was The Powerpuff Girls Popular?
Back as the controversy regarding the new remake of The Powerpuff Girls raged, I tried to remember what the original show was like. I'd been reminded by the internet that The Powerpuff Girls had surprisingly adult elements, that it was good in a general sort of way, but that was the major extent of the thoughts regarding it.
But, now, having gone back to watch the original series' first episode, I discovered a few things I'm not sure people are putting forth on the popular internet locations.
The first is that, like Danny Phantom, the show uses its intro as an explanation. That's all you get. Episode one is two disparate stories with little link between them. In one, we have Mojo Jojo, who is, and I know I may offend here, actually pretty annoying with his repetition schtick. I feel as though that's meant to be a parody of overblown villain monologues, but it's still grating once you get the joke.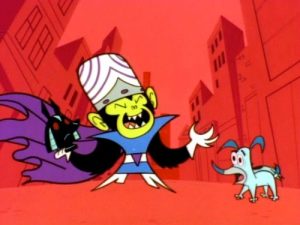 The Powerpuff Girls Had Some Interesting Villains
And in the other, we have the first few instances of the adult content I was told was rampant. The main villain wears lingerie like fishnets and is very suggestively drawn.
But, why is this show a classic, then? So far, I've not said anything to the effect of why it's still so fond a memory for people. Well, if I'm going off the first episode alone, I'd credit The Powerpuff Girls with two stellar qualities: its animation and its humor.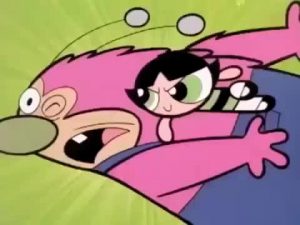 The Powerpuff Girls Has Punchy Actions Scenes
Sure, the fight scenes are animated with a lot of cuts to still frames, but there are dynamic poses that are truly artwork. For instances, the Professor holding an upset woman as she swoons is both hilarious because of the sudden manly face he gets and impressive with how stylized it is. I've noticed the majority of the comedy is understated like this.
Tiny sound gags and dialogue delivery are often way funnier than visual jokes about, say, people becoming dogs. The girls have moments of utter deadpan that's disarmingly sassy, and my personal favorite joke in the first episode is a sudden stop in the action music for just a second when a character clearly failed an attack move.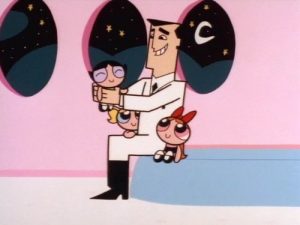 It Is Hard To Dislike Classic The Powerpuff Girls
This, along with how instantly likable the three girls are, and how relatable the Professor can be as a single father, probably help shore up any moments where the comedy or the action falls flat.
I personally prefer the more plot-driven of the old cartoons like Zim and Danny, but even to a modern audience, I can imagine people becoming fans of this show, either because of its sheer quality or, for younger kids, being inspired by superheroes who are more like them.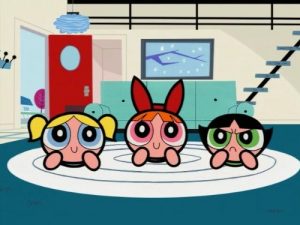 Possibly Related Posts:
Comments